Monday, September 5, 2016 / by Jessica Humbert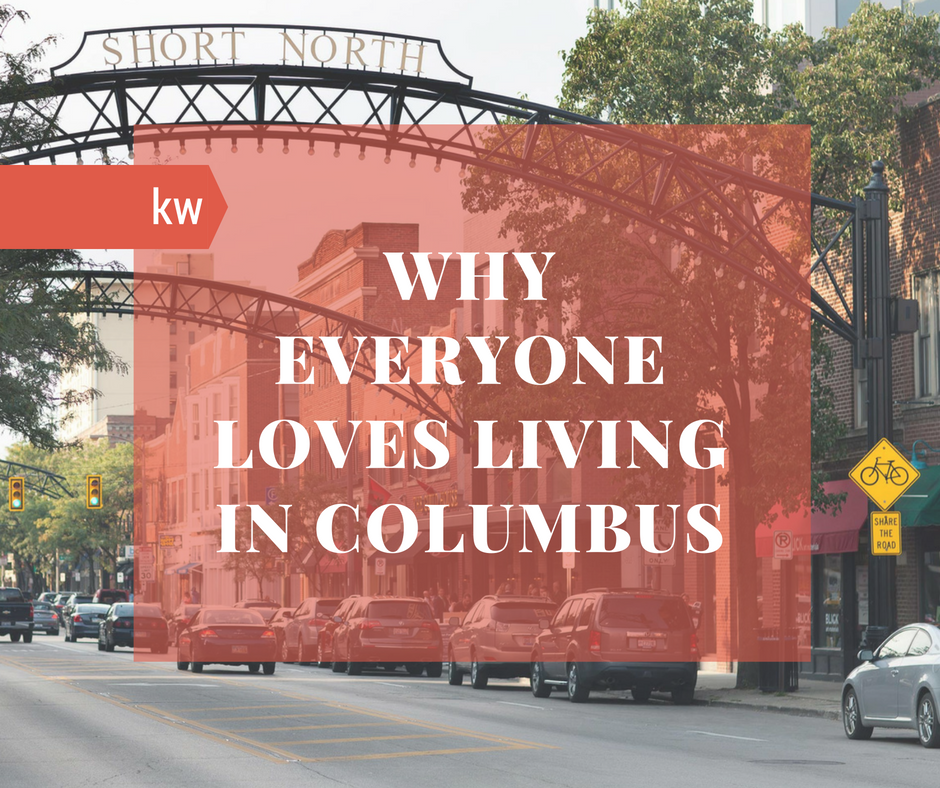 When it comes to the Ohio, or even the midwest, no city offers quite as much charm, prospect, or action as Columbus.


If you're a "prove it" person you'll fit right into our highly educated and open minded communities. You'll also appreciate the fact that our city's 10 year economic growth plan is ahead of schedule and projected to exceed all goals including:
Add 150,000 net new jobs
Generate $8 billion of capital investment
Raise personal per capita income by 30 percent
Earn recognition as a leader in economic development

For more statistics check out our team's Columbus relocation page. Now that we have the Spocks of the world satisfied with the numbers to back up our praises of Columbus, let us walk you through our personal favorite reasons why Columbus is the best in the midwest.


7 REASONS TO LOVE COLUMBUS
We are foodies and soon you will be too.

We could spend an entire day blabbing about all the fabulous hidden gems in Columbus but trust us, you want to eat here. From intimate nooks like Basi Italia where the menu changes weekly in Victorian Village, to a new oyster bar and gastropub in the Short North called The Pearl (go for brunch and get their famous bloody mary!) the foodie offerings in Columbus span all genres. Be sure to visit German Village's Lindey's and sit at their copper topped bar on the patio for a special treat during Village Lights for Christmas (you're welcome).

Everyone is a Sports Fan in Columbus.

Now, for everyone reading this that truly is not a sports fan– honestly, just yell "Go Sport!" and everyone will love you. For everyone else– Columbus is home to several Pro Teams including the Columbus Blue Jackets (hockey), Columbus Clippers (baseball), and Columbus Crew (soccer). Not to mention, the holy grail, The Ohio State Buckeyes.

We're always a stop on Music Tours.

Columbus has more than a few awesome venues including the Schottenstein Center, LC Pavillion/Express LIVE, Nationwide Arena, The Bluestone, and Newport Music Hall. Promowest consistently brings in the big names along with small venue artists ranging from Indie to Electronic genres. If you're a festival-goer you won't be disappointed with the Columbus line-up including Breakaway Music Festival, Promowest Fest, Rock on the Range, Fashion Meets Music Festival, and Buckeye Country Superfest. If you appreciate the older days, be sure to check out the Columbus Symphony and Jazz Orchestra!

O

ur Art Scene is booming.

I mean every subset of our art scene is booming. For visual arts visit The Columbus Museum of Art, Wexner Center for the Arts, and the Pizzuti Collection. Every month the Gallery Hop in Short North showcases a selection of wonderful galleries! If you prefer the performing arts, Shadowbox Live (the largest residential theater company in the US

), traveling shows, and musicals always return to their loyal fans at the Ohio Theatre and Ohio Palace Theatre.

We have a festival for everyone.

Honestly, everyone. We host one of the biggest Pride Festivals & Parades in the nation just to kick things off. Columbus also hosts local festivals like ComFest and the Columbus Arts Festival. If you didn't catch before that we love our food, we also have a food truck festival, Greek Festival, Dublin's Irish Festival, Jazz & Ribs Festival, the Ohio State Fair, and a bi-annual BeerFest.

We're family friendly.

While you might not be keen on taking the kiddos along to the summer Beer Fest, rest assured that Columbus has plenty of family friendly attractions like the world renowned Columbus Zoo, Zoombezi Bay waterpark, Cosi science center, several museums, and dozens of fantastic parks and trails. Not to mention our high scoring city school systems and nationally-ranked Nationwide Children's Hospital.
Did I mention we're smart? In fact, we're rated the smartest city in the U.S.

Our communities are centered on education from our local city schools through to The Ohio State University. With the third largest university in the country at the center of our city it isn't a shock that Columbus draws in intelligent people. Subsequently, numerous large companies including five Fortune 500 companies have chosen to headquarter in Columbus, continually expanding employment opportunities and financial stability to our communities.
Please feel free to reach out to Hart Property Advisors for any further insight on Columbus and to start your home search today! We love Columbus and know you will too.