Friday, September 23, 2016 / by Jessica Humbert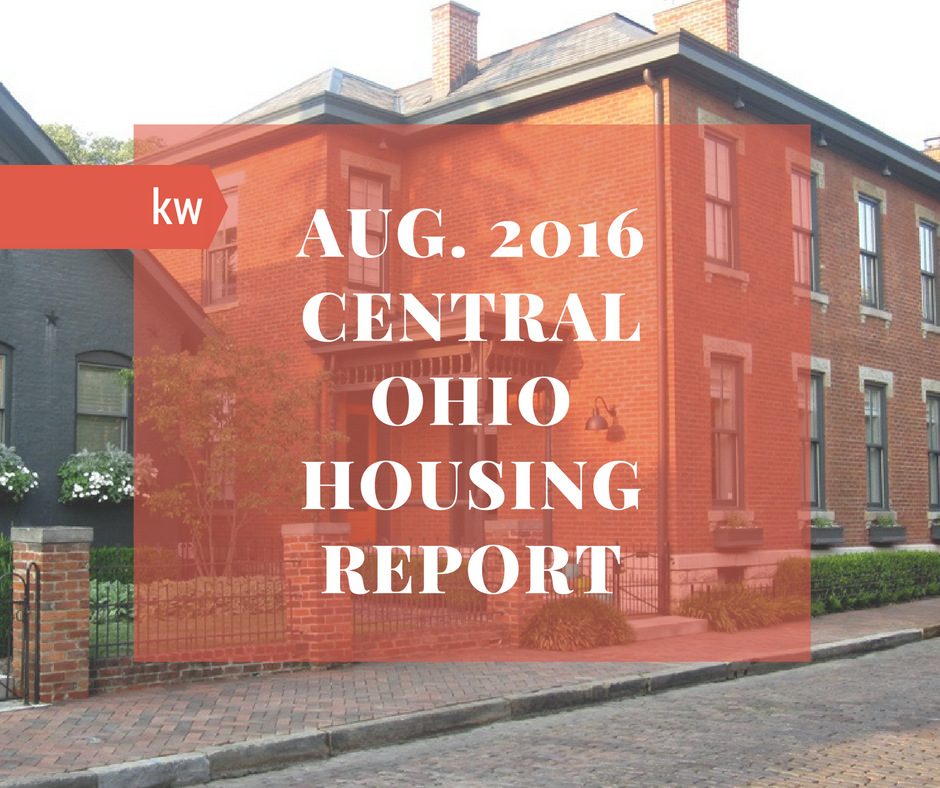 Home sales remain strong headed into fall
There were 3,116 central Ohio homes and condos sold during the month of August, a 4.8 percent increase over the previous year and a 1.5 percent increase over July. This was the highest number of closed sales for the month of August ever recorded and the second highest month for 2016, according to the Columbus REALTORS® Multiple Listing Service.
"Central Ohio home buyers are still being very aggressive in their decisions to purchase homes" said 2016 Columbus REALTORS® President John Royer. "Since demand for homes continues to be so high, potential sellers are encouraged to get their home on the market – they don't have anything to lose"!
The average sales price of a home in central Ohio during the month of August was $204,629, a 3.3 percent increase over August 2015. The median price of a home sold in August was $174,000, up 5.5 percent from one year ago. Year to date (January through August), both the average and median sale prices are up 5.1 percent and 5.6 percent, respectively, from last year.
The average sales price is the total volume divided by the number of homes sold. The median is the midpoint -- half the homes sell for less, while half sell for more.
The number of homes for sale in central Ohio during the month of August was 6,270, a 2.1 percent decrease from the previous month and a 21 percent decrease from August 2015.
There were 3,389 central Ohio homes and condos added to the market during August, a 2.6 percent drop from the same month one year ago and a 12.3 percent decrease from July.
"Inventory and new listings are beginning to taper, but this is to be expected as we head into the fall selling season" Royer said. "However it's still a terrific time to list your home as buyers remain eager for inventory and home values remain high!"
During the month of August, central Ohio homes and condos spent an average of 34 days on the market, which is 29.2 percent (14 days) shorter than last year and just 1 day longer than July.
"Homes are continuing to fly off the market, even as inventory begins to dwindle," Royer said."
According to the latest Housing Market Confidence Index by the Ohio Association of REALTORS®, 98 percent of central Ohio REALTORS® would describe the current housing market as moderate to strong.
When asked what the single most important factor that they believed limited their buyers from purchasing a property so far this year, 92 percent said difficulty finding the right property (low inventory), four percent said ability to sell existing their home, two percent said low consumer confidence and 2 percent said no factor limited buyers.
Columbus REALTORS® is comprised of over 7,300 real estate professionals engaged in residential sales and leasing, commercial sales and leasing, property management, appraisal, consultation, real estate syndication, land development and more.
The Columbus REALTORS® Multiple Listing Service (MLS) serves all of Franklin, Delaware, Fayette, Licking, Madison, Morrow, Pickaway and Union Counties and parts of Athens, Champaign, Clark, Clinton, Fairfield, Hocking, Knox, Logan, Marion, Muskingum, Perry and Ross Counties.
This article was written by ColumbusRealtors.com, published 9/21/16